DOES ANYBODY WANT TO BUY A HOLIDAY OFF ME?

March 20th, for 7 Nights, to Cancun (Mexico), for 2 people, £650 each.

The hotel is 4Stars, and it's ALL INCLUSIVE, so after the 650 you needn't buy any food or drink for yourselves, and there are details of it's restaurants and bars HERE. So theres quite a lot of food and drink to choose from.

Mexico has Mayan Ruins (so you can be like lara croft), Lush beaches, and happy locals to serenade you.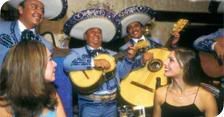 Also, the week is during MTVs spring break where everyone gets wasted and cool bands play and the jackass guys are around and stuff. it'll be hilarious :)
Comments: Read 1 orAdd Your Own.